You've Confirmed — What's Next?
It's hard to believe — in just a few months, you'll be starting your first class at Pacific. Between now and then, we'll guide you step-by-step through your transition into becoming a new student and show you what to expect in your first year on campus. We'll provide the resources and support you need to help you learn more about Pacific and prepare for your first semester.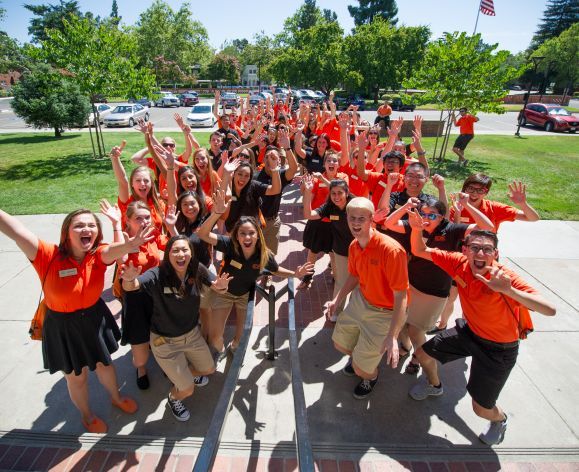 Flip Through the Schedule
Your Journey is About to Begin!
Take a look at what's in store during New Student Orientation and Week of Welcome. 
Welcome to University of the Pacific!
Here are some important items to anticipate this upcoming summer prior to starting your classes in the fall.
In your Admitted Students Portal, you will find a comprehensive Accepted Student Checklist that will include items to be submitted each month pertaining to your on-boarding experience at Pacific. Accepted Student Checklist items will be added over the summer, so please regularly check your portal across the summer to not miss any deadlines. Some immediate action items include:
Confirming your Enrollment
Registering for New Student Orientation
Submitting your payment for Enrollment & New Student Orientation
Confirm Financial Aid Award
Submit Housing Preference Form
Submit Final Transcripts
Detailed information about your Advising, Move-In and New Student Orientation experiences will be shared in the coming months. For your planning purposes, a general timeline will be:
Mid-July
Advising: You will be meeting virtually one-on-one with your academic faculty advisor to discuss your Fall 2022 class schedule.
Aug. 20-21
Move-In: You will be moving into your 2022-2023 academic year housing assignment. Residential Life & Housing will communicate all Move-In details. For questions, contact iamhome@pacific.edu.
Aug. 22-23
New Student Orientation: New Student Orientation is the first required step in ensuring all new undergraduate students have a successful transition to college life. The orientation program will promote open discussion among students, families and student supporters, continuing students, and faculty and staff on the expectations and perceptions of the greater campus community and being a Pacific Tiger! New Student Orientation will communicate all Orientation details. For questions, contact orientation@pacific.edu.
As we move through the summer and into the beginning of fall semester, it is important to regularly check your Pacific email for any updates pertaining to your new student on-boarding experience.We are so excited to meet you!
Now that you've said YES to Pacific, here are some steps to complete before classes start. Don't forget to ask your parent or guardian to sign up for the Pacific Parent and Family Network at pacific.campusesp.com!
Visit your student portal at go.Pacific.edu/Portal for links and more details.
Due Immediately
Submit your FAFSA
Register for New Student Orientation
Activate your Pacific login ID and password
Submit a photo for your Pacific Card
Before accepting, review your financial aid award
Review I-20 and student visa process (international students only)
Complete housing preference form
Sign housing contract
Confirm your placements (if applicable)
June
Starting June 1: Required pre-Orientation Canvas course available
Starting June 1: Pre-matriculation survey available
Starting June 1: Complete health insurance enrollment or waiver
Starting June 1: Upload proof of immunizations
Starting June 1: Register with Services for Students with Disabilities (if applicable)
Starting June 1: Enroll in a payment plan and/or designate an authorized user/payer
June 1: Submit housing preference form
June 15: Submit final transcripts (transfer students only)
June 30: Submit final transcripts (first-year students only)
July
Starting July 1: Required student Everfi trainings available
Starting July 1: Submit AB/IP test scores (if applicable)
July 1: Enrollment billing fees available to view
July 1: Sign up for Fall 2022 faculty advising and registration appointment
August
Starting Aug. 1: Purchase on-campus parking pass (if applicable)
Aug. 1: Enrollment billing fees due
Aug. 1: Orientation registration and fees due
Aug. 19: Complete required pre-Orientation Canvas course
Aug. 20-21: Housing Move-In
Aug. 22-23: New Student Orientation
Aug. 24: New Student Convocation
Aug. 25-28: Pacific Week of Welcome
Aug. 28: Complete required student Everfi trainings
Aug. 29: Fall 2022 classes begin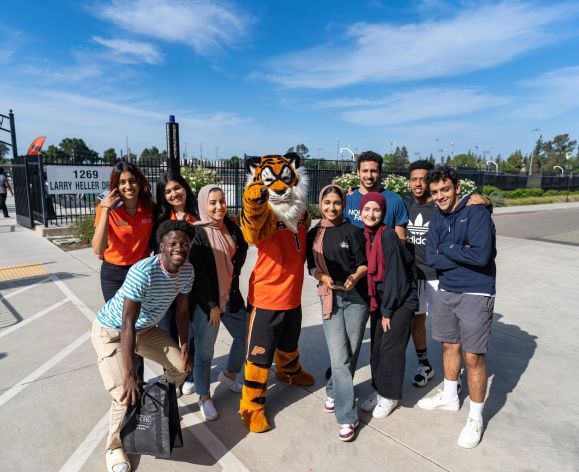 Get to know your new home
The Pacific Experience
Learn more about the campus and city you'll call home! If you haven't already, schedule a campus tour — we have tours designed specifically for new students! If you can't make it, check out our virtual tour and behind-the-scenes videos of campus from current Tigers.
Financial Aid Webinars for New Students
Do you have questions about financial aid, or would you just like to learn more about financial wellness? Members of Pacific's Financial Aid team answer questions during our Financial Aid Fridays webinar series!
College Bookstore
Eager to get that Pacific bumper sticker or Pacific Tigers hoodie? Start shopping for your Pacific gear online now. The Bookstore offers a variety of apparel, gifts, and more! 
Parents: This is Your Time, Too
At Pacific, we talk about the Pacific Family constantly, and we're thrilled to be able to welcome not only your student into the fold, but you as well! Here's a site just for you, complete with your own countdown check list and information on how to help your student on their next grand adventure.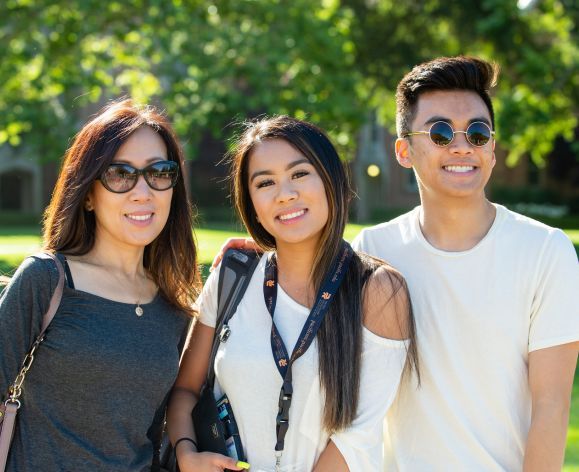 Pacific Zoom Backgrounds
Looking for a great background to show your Pacific pride? We've got plenty of options that bring Pacific to you!  
Follow Us on Social Media!