Build a Community By Cohort
In the residence halls, lifelong friendships take root and the experience of living on campus generates a whole new definition of "family" and "home". 
As we seek to provide excellent customer service, our team works to listen and expediently address our residents' needs and concerns, therefore ensuring the best possible residential life experience. Living within Pacific's residential campus community, students find their pursuit of knowledge enhanced and their range of cultural and social opportunities expanded.
At Pacific, we have divided the residential facilities so that we can provide intentional educational strategies focused on your personal growth and development.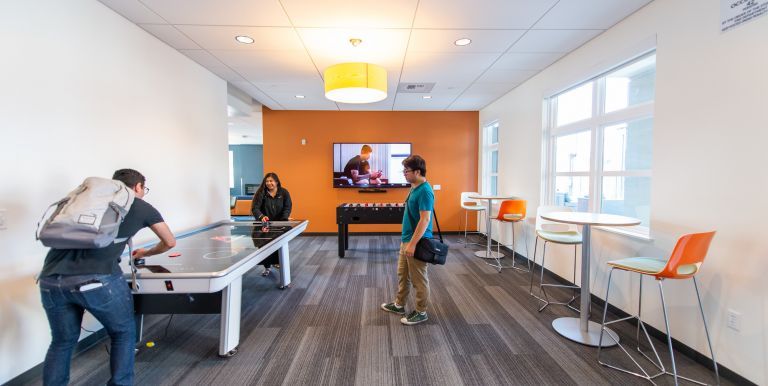 Our Strategies
Home to Your Virtual Community
Currently living on campus? Log in to RoomPact and discover a way to connect to your community. You can also find resources, a link to completing your daily health screening, and other forms to be completed.
Log In to RoomPact!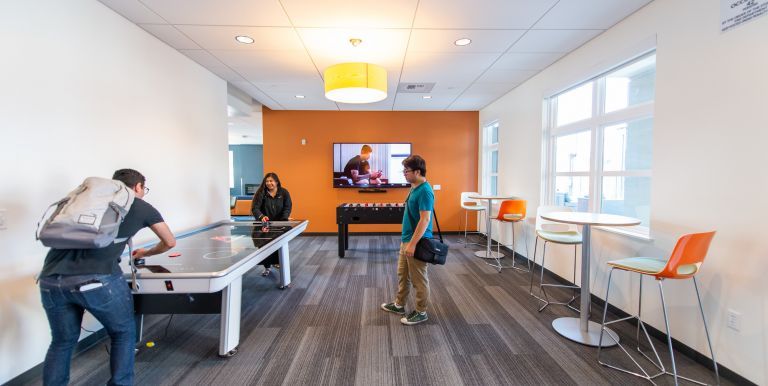 Our Strategies
Socials & Engagement
On Saturday evenings, you can join us for virtual socials from 7-9pm. Resident Assistants will also be working to create more opportunities to connect with you and your peers through this virtual semester.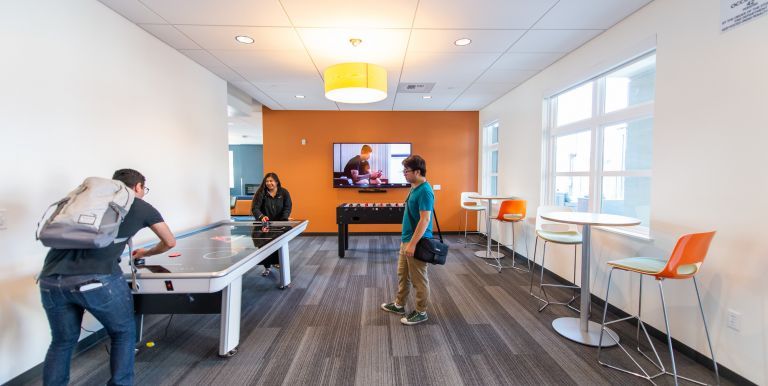 Our Strategies
Weekly Check-Ins
Our Resident Assistants put their #pawsout to their residents at the start of every week! Through virtual check-ins, you will get to know more about those who live in your community and build strong connections.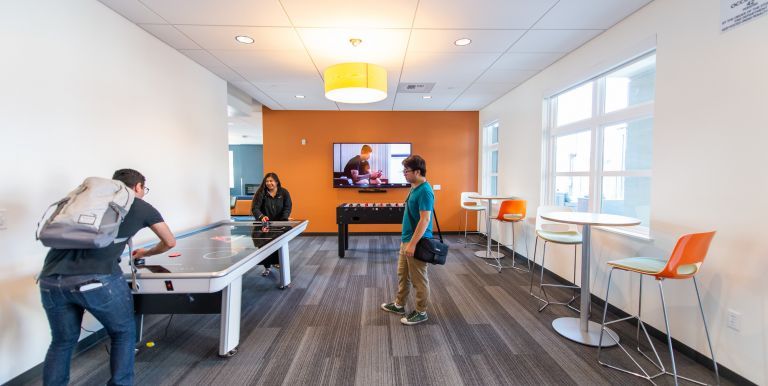 Our Strategies
Newsletters
Our Residence Directors will be sending newsletters every other week with community information, educational tips about our curriculum, and ways to build community.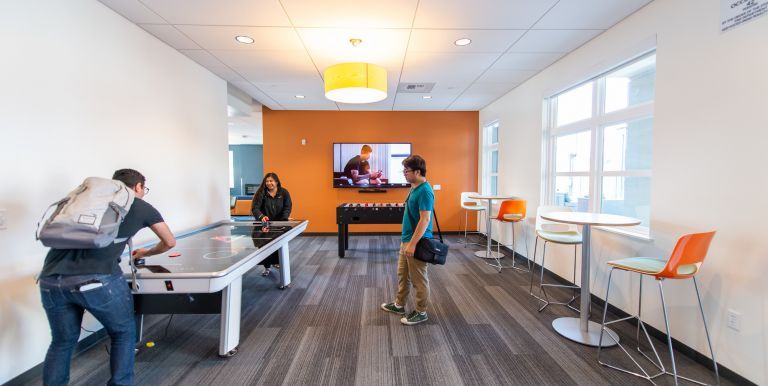 Our Strategies
Bulletin Boards
Posted throughout our communities are bulletin boards with information about living on campus, our Resident Assistants, and services & virtual events hosted by our campus partners.
As a result of living on campus, you will be a confident and culturally responsive individual engaged in your communities.
Student Leadership Opportunities
RAs are full-time students and student leaders trained by the professional staff and our campus partners. An RA serves as the day‐to‐day contact person with residents. Each RA is responsible for building community on a floor/section, serving as a resource for residents, and communicating policies and regulations. RAs are first responders in student conflict, crisis, and emergencies. They are also role models who serve the needs of students by providing program opportunities, developing safe and comfortable residence hall communities, and helping students become acquainted with the campus, the community and its resources.Becoming a Resident Assistant is a great way to get involved. RAs receive a scholarship which assists with room and board charges. To be considered for an RA position,you must have a 2.5 GPA and be at least have a second year class standing. For more details contact rasearch@pacific.edu.
If you're looking for a great way to get involved, check out RHA and your Residence Hall's Hall Government. The Residence Hall Association (RHA) is the student government for all on-campus residence halls and apartment communities. RHA conducts educational, social, cultural, and recreational programming for all the halls. Anyone living in a residential facility belongs to RHA, that means you, your roommate and all your friends who live in the halls. RHA is here to represent and entertain YOU!
Another way to get involved in the residence halls is through the NRHH. NRHH is most known for recognizing communities, faculty, staff, students, programs each month. These awards are called "Of the Months" or OTMS. Local award winners are submitted for regional and then national consideration within their category. The next national or regional winner may be YOU!
Membership to NRHH is restricted to 1% of the residents with a minimum of 26 units, 2.5 cumulative GPA, and two semesters at Pacific. If you have a question or comment, send an email to nrhhuop@gmail.com.
Safety and Community Responsibility
Our part is to make sure that the infrastructure (i.e. locks, lighting, fire equipment etc.), policies, and procedures reflect the best way to keep you safe.
Resident Assistants will walk through buildings on a daily basis to check for exterior facility concerns like lighting while also reporting any suspicious activity. They will also document any policy violations.
Each semester we conduct Fire Drills in which you will be expected to evacuate from a building and there a Residential Life team member will review the importance of evacuating when the fire alarm goes off.
Each semester Resident Assistants conduct Health and Safety checks. They will enter rooms in pairs to check to see if the room has any items that could be hazardous - including daisy chaining plugs (when you plug an extension cord into an extension cord) or candles that have been banned as a fire hazard.
Public Safety and Residential Life & Housing have partnered up for our Pacific Community SAFE program. We believe in strong community relationships between our team, our Public Safety Department, and you. Each of our residence communities on campus will be paired up with a Public Safety liaison officer/sergeant for the year. These partnerships will allow officers to connect with the residents and Residential Life team members of each community while more effectively educating and ensuring the safety of our students.
It is important that safety is taken seriously. It is your responsibility to:
Follow the policies outlined in the Tiger Lore
Adhere to the Student Housing Agreement
Follow directions given by Resident Assistants and professional staff
Not let people into buildings or parking area
Know who to notify in case or an emergency
Pay attention to basic safety skills.
You can also sign up through inside Pacific to receive emergency notifications from the University. You can include cell phone numbers and email addresses to receive text messages, voicemail, and/or emails in the event of a crisis.
Associate Director of Residential Life
The Associate Director is responsible for overall leadership, management, and oversight of Residential Life, including the residential curriculum for the three cohorts, selection, training, development, and evaluation of master's level professionals and student staff members. 
Assistant Director of Residential Life (AD)
The  AD is a full-time, live-on professional staff with a Master's degrees who is specifically trained in all aspects of residential life, including: counseling, conflict mediation, programming, and conduct. Housed in Chan Family Hall, the AD has comprehensive responsibility and oversight of an entire residential area of campus (approximately 1,000 students, three Residence Directors, and 35 to 39 student staff) within the First Year Residential Experience Cohort. 
Residence Directors (RDs)
RDs at Pacific are full-time professional staff with Master degrees responsible for the operation of one to five  residence halls, apartment communities or Greek facilities, which includes the supervision of Resident Assistants. RDs work with staff and students to build safe, positive, and inclusive communities; meet with students regarding policies and guidelines; and ensure the proper upkeep of facilities and grounds.