May 25, 2023 04:00 pm
- 07:30 pm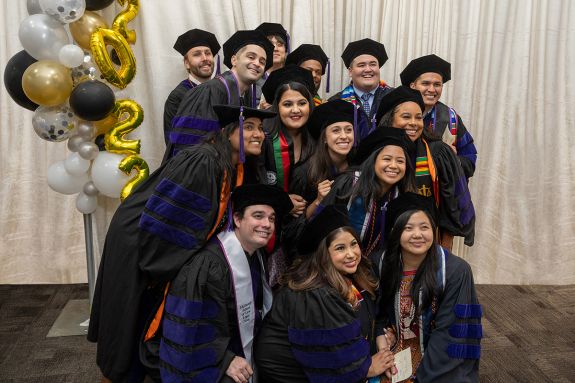 Please join McGeorge School of Law for our Unity Graduation event on Thursday, May 25 from 4:00-7:30 p.m. PT. Unity Graduation is an annual event recognizing the academic accomplishments and unique journey of diverse students in law school.
​Address: 
University of the Pacific McGeorge School of Law
Lecture Hall
3227 Fifth Avenue, Sacramento, CA 95817
​* The Lecture Hall is located across the street from the main entrance/steps of the law school.
Order of Celebration
4:00 p.m. — Reception on the quad
4:45 p.m. — Graduates line up for Processional
5:00 p.m. — Processional of Graduates
5:05 p.m. — Welcome Remarks by Dean Michael Hunter Schwartz
5:10 p.m. — Student Remarks by Yuri Khadka and Elizabeth Rocha Zuñiga
5:15 p.m. — Remarks by the Hon. Judge Myrlys Stockdale Coleman
5:20 p.m. — Thank You Video Presentation 1
5:28 p.m. — Performance by Ballet Folklorico: Instituto Mazatlan de Bellas Artes
5:45 p.m. — Thank You Video Presentation 2
6:03 p.m. — Recognition of Affinity Student Organizations 
6:09 p.m. — Keynote Address by Cal G. Gonzales
6:24 p.m. — Thank You Video Presentation 3
6:30 p.m. — Presentation of Stoles by Associate Dean Mary-Beth Moylan
7:00 p.m. — Thank You Video Presentation 4
7:07 p.m. — Remarks & Send-off Toast by Senior Assistant Dean Valerie D. James and Associate Dean Larry Levine
7:17 p.m. — Closing Remarks by Yuri Khadka and Elizabeth Rocha Zuñiga
7:30 p.m. — Event closes
Add to Calendar
2023-05-25 16:00:00
2023-05-25 19:30:00
McGeorge School of Law Unity Graduation 2023
Please join McGeorge School of Law for our Unity Graduation event on Thursday, May 25 from 4:00-7:30 p.m. PT. Unity Graduation is an annual event recognizing the academic accomplishments and unique journey of diverse students in law school.   ​Address:  University of the Pacific McGeorge School of Law Lecture Hall 3227 Fifth Avenue, Sacramento, CA 95817 ​* The Lecture Hall is located across the street from the main entrance/steps of the law school.   Order of Celebration 4:00 p.m. — Reception on the quad 4:45 p.m. — Graduates line up for Processional 5:00 p.m. — Processional of Graduates 5:05 p.m. — Welcome Remarks by Dean Michael Hunter Schwartz 5:10 p.m. — Student Remarks by Yuri Khadka and Elizabeth Rocha Zuñiga 5:15 p.m. — Remarks by the Hon. Judge Myrlys Stockdale Coleman 5:20 p.m. — Thank You Video Presentation 1 5:28 p.m. — Performance by Ballet Folklorico: Instituto Mazatlan de Bellas Artes 5:45 p.m. — Thank You Video Presentation 2 6:03 p.m. — Recognition of Affinity Student Organizations  6:09 p.m. — Keynote Address by Cal G. Gonzales 6:24 p.m. — Thank You Video Presentation 3 6:30 p.m. — Presentation of Stoles by Associate Dean Mary-Beth Moylan 7:00 p.m. — Thank You Video Presentation 4 7:07 p.m. — Remarks & Send-off Toast by Senior Assistant Dean Valerie D. James and Associate Dean Larry Levine 7:17 p.m. — Closing Remarks by Yuri Khadka and Elizabeth Rocha Zuñiga 7:30 p.m. — Event closes
3200 5th Ave, Sacramento, CA 95817, USA
McGeorge School of Law
McGeorge School of Law
America/Los_Angeles
public
3200 5th Ave, Sacramento, CA 95817, USA
McGeorge School of Law