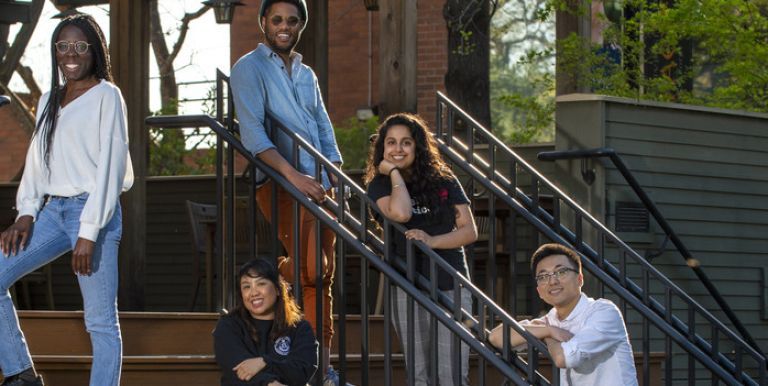 Diversity, Equity and Inclusion
The committee is a collaborative partner in creating and sustaining a culture that consistently reflects DEI as a core value that informs how we work, interact and support one another and those we serve.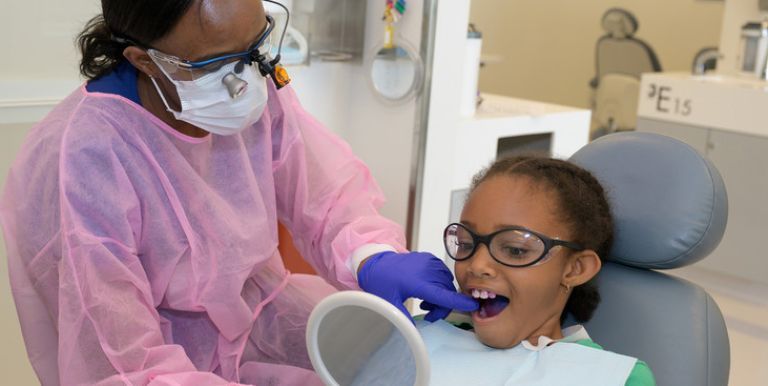 DEI principles
Our work is ongoing and requires commitment, education, humility, innovation and accountability. We are dedicated to helping Pacificans on our three campuses build and strengthen the capacity to incorporate DEI principles into their roles at the university.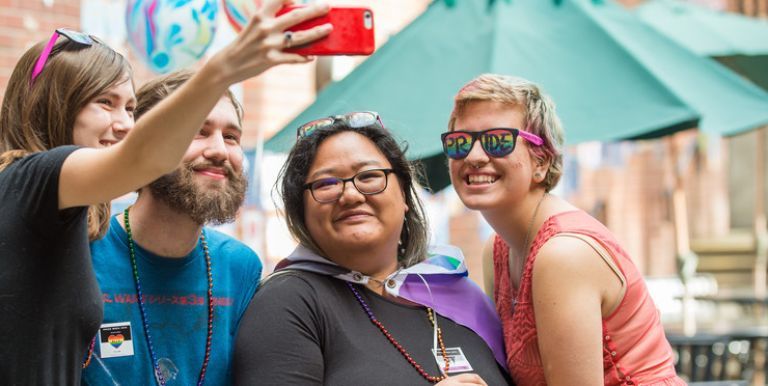 Pacific's rich cross-section of cultures
We are mindful of the incredibly rich diversity of identities represented at Pacific, and strive to achieve the powerful and attainable goal expressed by our university president: to become the leading anti-racist institution in the nation.
Ready to serve all Pacificans
UCDEI is comprised of 40 faculty, staff and students responsible for assisting in the development of programs, projects and policies that will enhance diversity, equity and inclusion, with emphasis on issues related to, but not limited to, ethnicity, gender, sexual orientation and disability.
Champions of Diversity
The awards are presented annually to students, faculty and staff who exemplify the university's values of DEI in an exceptional manner. Congratulations to those who received the 2020-21 Champion of Diversity awards. 
DEI Dialogues
The University Committee for Diversity, Equity and Inclusion, in partnership with President Christopher Callahan, presents this series of dialogues designed to offer students an enriched co-curricular experience via participating in dialogues with influential citizen leaders from across the country. The dialogues address the social, cultural and structural inequities in our society and help educate, engage and empower individuals to become transformative leaders in the fight for social justice.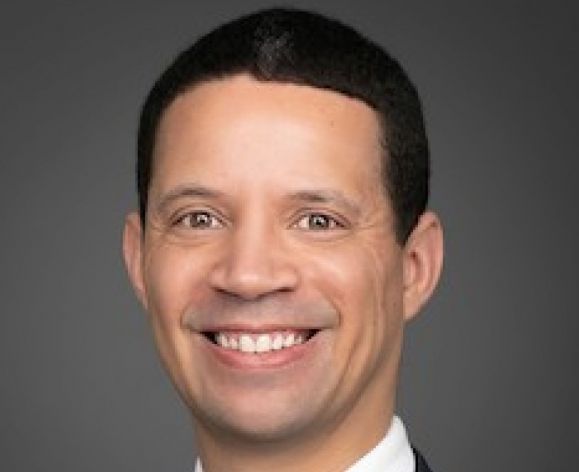 Nathan Carter '00 is the inaugural chief diversity, equity and inclusion officer at Northern Virginia Community College. Carter also is ecstatic his alma mater, University of the Pacific, has prioritized DEI. He spoke about his journey as part of the DEI Dialogues series.
Grants
UCDEI provides financial support for university-focused programming or projects that align with the university president's initiatives. Contact co-chair Marshea Pratt at mpratt@pacific.edu for more information.
Events
UCDEI supports cultural and identity-based celebrations and similar activities throughout the academic year.
President's annual DEI update
"I believe having a cabinet-level executive focused exclusively on these issues is a first step. Pacific will be one of only two West Coast Conference universities to have a vice president for DEI."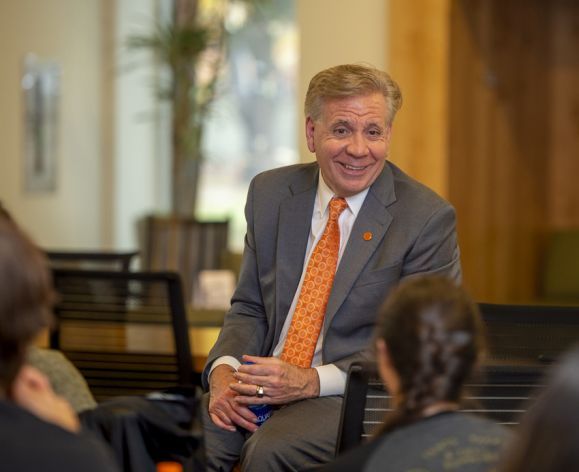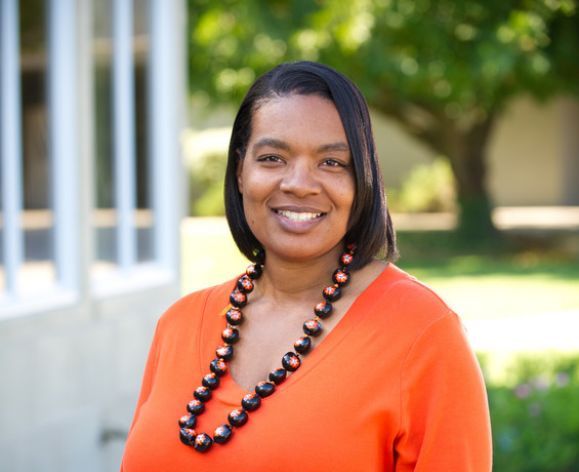 Co-chair, staff
Marshea Pratt
Marshea Pratt is the Assistant Director of Clubs and Regional Programs for the Pacific Alumni Association based on University of the Pacific's Stockton campus.  
In addition to serving as Co-Chair of the UCDEI, she also serves as an advisor for Kilusan Pilipino Student Club and the Alpha Alpha Xi Chapter of Alpha Phi Omega Fraternity.  She is a 2014 recipient of Pacific's Women of Distinction Award and a 2016 recipient of the Podesto Award for Excellence in Student Life, Mentoring and Counseling.
She earned a Bachelor's degree in English from University of the Pacific in 1993 and a Master's in Public Administration from Stanislaus State in 2003.
Co-chair, faculty
Qingwen Dong
Qingwen Dong is a professor and the director of the graduate program in Department of Communication at University of the Pacific. He received the minority scholarship from the Association in Education for Journalism and Mass Communication while working on his doctorate at Washington State University.
After joining Pacific in 1995, he became the first Chinese American to chair a Department of Communication in the nation. He is a recipient of the university's highest teaching and research honor, the Award for Eberhardt Teacher/Scholar; its highest honor for scholarship, the Award for Faculty Research Lecturer; and its highest honor for service, the Award for Excellence in Undergraduate Research Mentoring.
He served as Provost Faculty Fellow in Diversity, Equity and Inclusion. His teaching and research focus on intercultural communication, socialization and media effects. 
Voting members
Rupa Balachandran, Associate Dean, School of Health Sciences
Stan Constantino, assistant Dean of Admissions, School of Dentistry
Scout Cooper-Wilson, ASuop President, student
Qingwen Dong, Professor of Communication
Melanie Felmlee, Assistant Professor of Medicinal Chemistry/Pharmacy
Susan Giraldez, Associate Professor of Modern Language & Literature
Joshua Harzman, Assistant Director of Housing
Ahmed Kanna, Associate Professor of International Studies
Larry Levine, Professor of Law
Randall Ogans, Enterprise Applications Developer
Leonard Perry, Men's Basketball Coach
Marshea Pratt, Assistant Director of Alumni Clubs and Regional Programs
Cecilia Ruvalcaba, Assistant Professor of Marketing
Paul Subar, Academic Council Chair
Ex-officio non-voting members
Allison Dumas, Associate Vice President of Student Involvement & Equity
Deborah Freeman, Director of AA/EEO
Marge Grey, Associate Vice President of University Strategic Communications
Mike Klocke, Community Relations Director
Joan Lin-Cereghino, Vice Provost of Faculty Affairs
Danny Nuss, Services for Students with Disabilities Director
Cassady Ogedegbe, Associate Dean of Students for Sacramento and San Francisco
Tracy Patton, Community Involvement Program Exec. Director
Elizabeth Trayner, Title IX Coordinator
Melissa Yamanaka, Diversity and Outreach Manager for Dental Admissions