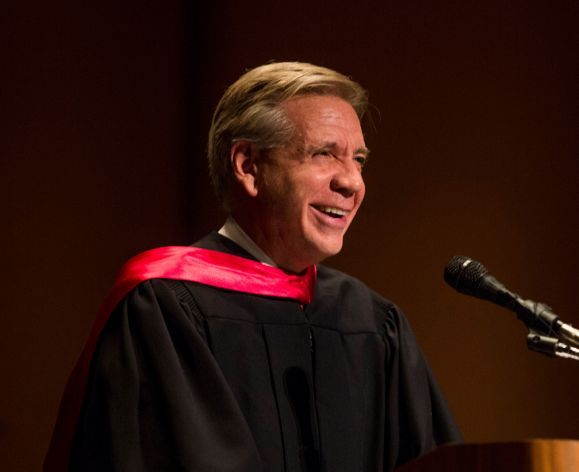 About President Callahan
Christopher Callahan became the 26th president of University of the Pacific, California's first chartered institution of higher learning, on July 1, 2020. He is chief executive of a university that is ranked among the nation's top 100 in the nation and No. 18 in the West, with campuses in Stockton, Sacramento and San Francisco.
UCLA Dean for Students Appointed Pacific VP for Student Life (April 30, 2021)
President Callahan's message to community on jury verdict in Derek Chauvin trial (April 20, 2021)
Harvey Mudd Leader Named Next Dean of Pacific's Engineering School (April 12, 2021)
Pacific to hold remote graduation ceremonies in May, in-person commencements in October (March 18, 2021)
Second quarterly report on Pacific's social justice and diversity initiatives (March 11, 2021)
Pacific outlines reopening plans for summer and fall (March 4, 2021)
A New Tradition for Fridays (Jan. 27, 2021)
Video holiday message from Chris and Jean (Dec. 14, 2020)
Pacific To Continue Remote Teaching and Learning For Spring 2021 (Dec. 9, 2020)
First Quarterly Report On Social Justice and Diversity Initiatives (Nov. 30, 2020)
A Thanksgiving Message (Nov. 25, 2020)
Spring Semester 2021 (Oct. 8, 2020)
Social Justice Issues (Aug. 19, 2020)
Covid and Fall Semester 2020 (July 17, 2020)
Beginning Our Journey Of Innovation Together (July 6, 2020)
March 2021
"Unlocking The Past: Safe Found in UOP Basement Contains School's Original Documents," CBS 13 (Sacramento-Stockton-Modesto), March 26, 2021
"Historic documents dating back to 1851 found in safe at UOP." FOX 40, March 26, 2021
January 2021
"Op-ED: In the wake of COVID, signs of hope across higher education," San Francisco Chronicle, January 24, 2021 - Pacific President Christopher Callahan authored an Op-Ed looking at how Pacific and other U.S universities are successfully continuing their educational and service missions despite the challenges of COVID-19.
November 2020
"UOP receives $175K grant from Hearst Foundations for remote learning," KCRA 3 (NBC, Sacramento-Stockton-Modesto), November 25, 2020
"Pacific helps students feel more at home during holidays," KCRA 3 (NBC, Sacramento-Stockton-Modesto), November 25, 2020
"UOP adapts Thanksgiving meal tradition for students stuck on campus during pandemic," FOX 40, November 25, 2020
"'Let's give them a remembrance of Thanksgiving:' Pacific prepares special meal for students spending holiday on campus," The Record, November 25, 2020
August 2020
"UOP's Fall Semester Plans," Good Day Sacramento, August 21, 2020
"President of the Pacific," San Joaquin Magazine, August 1, 2020
July 2020
"'Here for the students': Pacific's new president eager to build on rich legacy," The Record, July 8, 2020
"Christopher Callahan is the 26th president of california's first chartered university," KCRA 3 (NBC, Sacramento-Stockton-Modesto), July 1, 2020
June 2020
"Fall classes at University of the Pacific," KCRA 3 (NBC, Sacramento-Stockton-Modesto), June 13, 2020
February 2020
"Former ASU exec dishes on plan of action in preparation for new job as California university president," Phoenix Business Journal, February 10, 2020
"Incoming University of the Pacific president wants to change university's 'speed of play'," Sacramento Business Journal, February 6, 2020
January 2020
"University Of The Pacific President-Designate Christopher Callahan," Capital Public Radio's (Insight with Beth Ruyak), January 28, 2020
December 2019
"Cronkite Students Spend Thanksgiving Dinner with Dean Callahan – One Last Time," Cronkite.ASU.edu, December 2, 2019
November 2019
"Transitions: New President Selected at U. of the Pacific, Interim Leader Named for U. of West Georgia," The Chronicle of Higher Education, November 26, 2019
"Pacific names 'truly visionary' president," The Record, November 22, 2019
"University of the Pacific names a new president," KCRA3 (NBC, Sacramento-Stockton-Modesto), November 21, 2019
"New president named today," KCRA3, November 21, 2019
"UOP finds president to bring 'expansive vision' to state's oldest chartered university," The Sacramento Bee, November 21, 2019
"The founding dean of the Cronkite School is leaving," KTAR-FM (Phoenix DMA), November 21, 2019
"ASU Cronkite school Dean Christopher Callahan to be next president of University of the Pacific," ABC15 (Phoenix, Arizona), November 21, 2019
"University of the Pacific has named its next leader," Capital Public Radio (NPR, Sacramento-Stockton-Modesto), November 21, 2019
"Founding Cronkite School dean named next president of University of the Pacific," ASUNow.edu, November 21, 2019
"Founding dean of Cronkite School named next president of University of the Pacific," AZCentral.com (Arizona Republic), November 21, 2019
"Founding dean of Cronkite School to be next president of California university," The State Press, November 21, 2019
"ASU Cronkite school Dean Christopher Callahan to be next president of University of the Pacific," KNXV-TV (ABC 15, Phoenix, Arizona), November 21, 2019
"Founding Cronkite School Dean Named Next President of University of the Pacific," Cronkite.ASU.edu, November 21, 2019
"Pacific gets new president," Lodi News-Sentinel, November 22, 2019 (Subscribers can read the story at Lodinews.com.)
"Founding ASU journalism dean named president of California university," Phoenix Business Journal, November 21, 2019
"UOP Names Arizona State Journalism School Dean As New President," Capital Public Radio, November 21, 2019
"Cronkite School dean leaving to be president of California university," KJZZ-FM (NPR, Phoenix, Arizona), November 22, 2019
"Founding dean of Walter Cronkite School to say good-bye to ASU in June," Downtown Devil, November 22, 2019
"On the move at Banner Health, ASU, Rusing Lopez & Lizardi," AZBigMedia.com, November 22, 2019