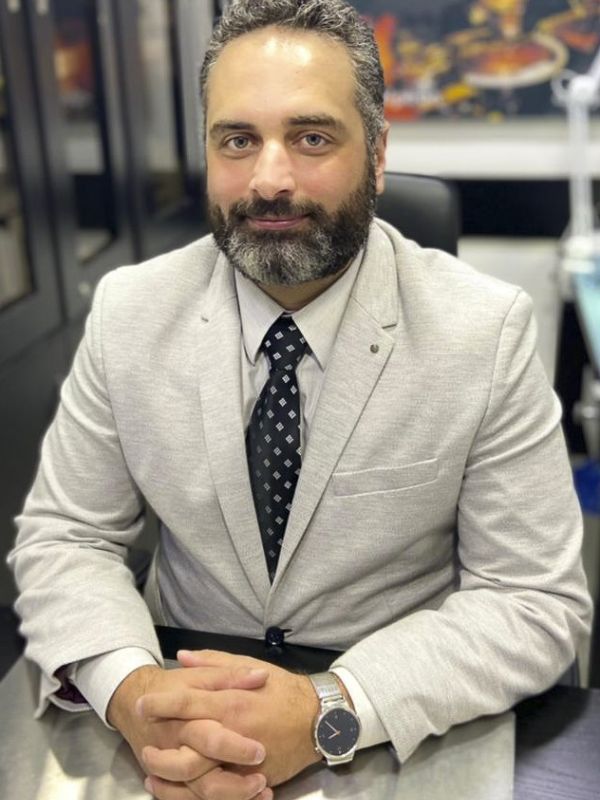 At Pacific Since: 2021
Dr. Fadi Najem is a member of the Department of Audiology faculty at the University of the Pacific. He earned his Doctor of Audiology (Au.D.) degree in 2011 and his Doctor of Philosophy (Ph.D.) degree in audiology in 2013. He holds a Certificate of Clinical Competence in Audiology (CCC-A) from the American Speech-Language-Hearing Association (ASHA) and a Certificate of Clinical Competence in Audiology (AUD-C) from the Canadian speech-language and audiology association (SAC). Dr. Najem has extensive clinical experience and has worked with a wide variety of pediatric and adult patients suffering from hearing loss and vestibular disorders. Dr. Najem supports enhancing the audiological services provided to patients locally and globally, and he believes that students are the key to achieving a better future in the audiology profession. That is why Dr. Najem advocates for diversity and strives to provide students with high-quality education, outstanding clinical and research experience, ethical and professional personality, and pioneering leadership skills. What Dr. Najem likes the most about the University of the Pacific are the diverse and enriching working environment and the outstanding colleagues.
Education
Doctor of Philosophy (Ph.D.) in Audiology (2013). University of Kansas, Department of Hearing and Speech, Kansas City, Kansas, USA. Dissertation: "The effect of contralateral pure tones on the compound action potential in humans".
Doctor of Audiology (Au.D.) (2011). Missouri State University, Department of Communication Sciences and Disorders, Springfield, Missouri, USA. Thesis: "A comparison between contralateral suppression in cochlear microphonics and distortion product otoacoustic emissions."
Bachelor of Science (BSc) in Speech Pathology and Audiology (2006). Jordan University of Science and Technology, Department of Audiology and Speech Pathology, Irbid, Jordan.
Teaching Interests
Dr. Najem believes that educators carry the responsibility of shaping the educational environment to help knowledge seekers fulfill their desire to learn, develop their rational thinking, unleash their creativity, and apply their skills and knowledge in real-life situations to achieve success. Dr. Najem strives to guide students to gain content mastery, a solid moral and ethical personality, well-organized knowledge and thoughts, outstanding professional and personal skills, well-defined professional goals, and the courage to overcome challenges and improve their communities. Dr. Najem attempts to create a learning environment that fosters critical thinking, problem-solving, and real-life application of the learned concepts. Whether in the classroom, in the clinic, in the lab, or in public, Dr. Najem's teaching philosophy is based on the concept of leading by example to help the students develop their knowledge as well as their ethical and professional behavior. Dr. Najem helps students to grasp, retain, organize, maintain, and apply the learned professional concepts and skills through a well-planned teaching flow that relates theoretical information to practical applications and emphasizes rational thinking.
Courses
AUDI 315 – Amplification (I).
AUDI 316 – Amplification (Lab).
AUDI 317 – Amplification (II).
AUDI 319 – Amplification (III).
AUDI 313 – Central Auditory Processing.
AUDI 355 – Practice management.
Research Focus
Dr. Najem's research interests are in the areas of hearing and vestibular physiology and clinical evaluation in general. His research designs usually aim to develop and refine clinical tools to improve the diagnostic value or to address and solve a specific challenge in the currently used clinical methods and tools. Dr. Najem is interested in research protocols that combine behavioral and electro-physiological experimentation, such as examining the psychoacoustic perception of complex signals using electrophysiological tools, including early (i.e., ECochG, ABR) and late (i.e., MMN and P300) evoked potentials. These research attempts aim to improve our understanding of the peripheral and central auditory processing mechanisms in passive and active listening situations. Dr. Najem has a special research interest in the physiology of the efferent system in humans and how the efferent system responds to different acoustic stimuli in simple and complex acoustical situations. These particular research designs have a significant and practical impact on improving some hearing evaluation procedures and advancing some hearing aid and cochlear implant processing models and algorithms.
Research Interests
Early and late auditory evoked potentials.
Physiology and clinical evaluation of the auditory efferent system.
Vestibular evaluation.
Amplification.
Bilingual auditory processing.