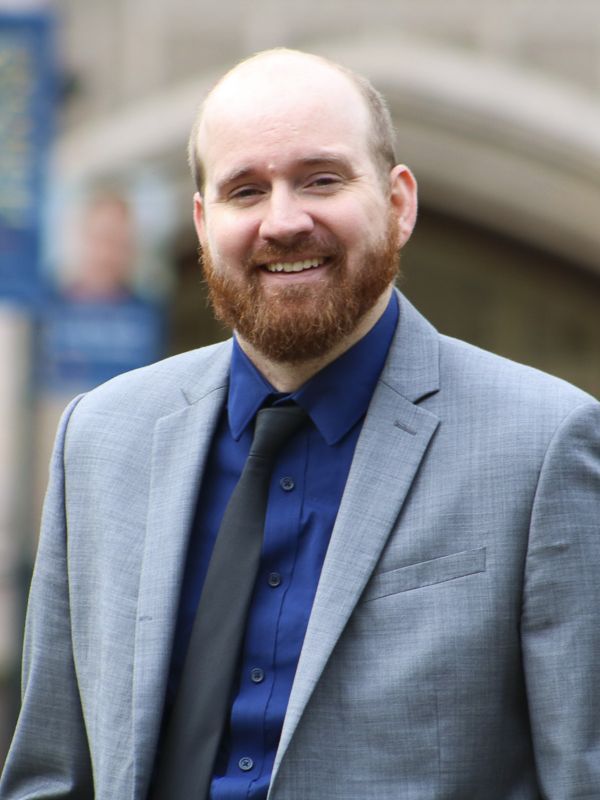 Joshua Salyers is an assistant professor of practice at Pacific. He earned his M.A. from East Tennessee State University and his Ph.D. in Latin American History from the University of Arizona.
He originally came to Pacific as part of an interdisciplinary project, The Digital Deltas Project, begun by the Department of History in collaboration with the School of Engineering and Computer Science. This interdisciplinary student-driven initiative to create advanced public humanities projects has resulted in students creating games, pedagogical programs, and museum exhibits that explore the history of the San Joaquin-Sacramento Delta area.
Joshua currently teaches Core 001 classes in information literacy and a variety of courses in the Department of Art, Media, Performance, and Design on games and storytelling with digital media.
Education
BA – History, East Tennessee State University
MA – Latin American History, East Tennessee State University
PhD – Latin American History, University of Arizona
 
Teaching Interests
Teaching Philosophy: 
My teaching philosophy revolves around the principle that engaged learning occurs when students take ownership of their own work. I encourage my students explore the intersection of digital storytelling technologies and the humanities through project-based learning, which forces them to think critically about subject matter and make decisions about how to best tell the "story" of that subject. My digital humanities focus, in particular digital public history, offers students an opportunity to learn new technical skills, engage with interesting historical topics, and make meaningful decisions about how to present the histories of real people.
I believe in introducing students to project-based learning and technical skills early on in their academic careers to reinforce creativity and flexibility when taking on later academic and real-world challenges. In my courses, students usually work with and analyze primary sources initially and then develop technical skills to deliver an innovative presentation or reinterpretation of such sources.
My courses explore a variety of humanities topics and combine foundational skills, such as critical thinking, writing, and problem solving with storytelling skills, often using technology. A good story is engaging, well-researched, and thoughtfully constructed. Responsible and engaging storytelling is a compound skillset that is invaluable to our students and applicable across all disciplines.
Teaching Interests:
Latin American History
Virtual Reality Development
Game Design
Previsualization
Game Environment Design
Courses:
MEDX 193B: Previsualization and 3D Film
CORE 001: InfoWars
MEDX 193B: Game Environments
MEDX 011: Critical Media Making
MEDX 193C: Introduction to Game Design
HIST 080: Digital Narratives
PACS 002: Protest!
PACS 002: Novel History
PACS 002: Community Experience in VR
SELECTED PUBLICATIONS
C. Adams*, D. Cliburn, J. Salyers, R. Shiraz*, A Qualitative Evaluation of Student Experience with a Virtual Heritage Application. Proceedings of the IEEE VR 5th Workshop on K-12+ Embodied Learning through Virtual and Augmented Reality, March 22, 2020, Atlanta, Georgia,
J. Salyers, D. Cliburn, K. Canniff*, S. Barajas*, Evaluation of Information Widgets for a Virtual Reality Serious Game. Proceedings of the IEEE VR 4th Workshop on K-12+ Embodied Learning through Virtual and Augmented Reality, March 23, 2019, Osaka, Japan.
S. Vu, D. Cliburn, J. Helgren, J. Salyers, K. Canniff*, A. Johnson*, M. Milliken*, T. Reardon, K. Sabbatino, A. Stephan*, Recreating Little Manila through a Virtual Reality Serious Game. Proceedings of the 3rd Digital Heritage International Congress & Expo, Short Paper, October 26-30, 2018, San Francisco, California.
Salyers, J., Cliburn, D., Sparks, E., Culilap, J.*, Kuo, S., Sabbatino, K.*, Sanchez, R.*, Thomasson, D.*, Tvergyak, H.*, Little Manila: A Digital Recreation. Proceedings of the 15th EUROGRAPHICS Workshop on Graphics and Cultural Heritage, Short Paper, September 27-29, 2017, Graz, Austria.
Salyers, Joshua. "Oscar Lewis, Urban Poverty, and The Children of Sánchez." In Oxford Research Encyclopedia of Latin American History, 2017.
Salyers, Joshua. "Inequality: Mexico" In Encyclopedia of Race and Racism, 2nd Edition, Cengage Gale, 2013.
*Denotes University of the Pacific student coauthor 
Research Focus
Research Interests:
Digital Humanities
Historical Reconstruction
Cultural History
Public History
Urban Development
Mexican History
Digital pedagogy
Serious Game Design
DIGITAL HUMANITIEES PROJECTS
Before the Dam: A Visit to John Muir's Hetch Hetchy (Created by Joshua Salyers and Mike Wurtz)
"Before the Dam: A Visit to Muir's Hetch Hetchy" sends viewers back in time to stand in Hetch Hetchy circa 1900 and see the valley as conservationist John Muir did before it was dammed for San Francisco's water supply. "Before the Dam" is a virtual reality experience that allows the viewer to step inside the pages of Muir's journals and onto the valley floor at the turn of the century (an impossible feat today) to see why Muir fought so hard to preserve this spectacular resource. "Before the Dam" was the winner of the Best Virtual Reality Experience at the 2020 Earth Day Film Festival.
Carbon Roller Coaster (Created by Joshua Salyers and Aneesh Koorapaty)
The Carbon Coaster is a Virtual Reality visualization of the rising CO2 concentrations in the earth's atmosphere over the last 600 years.
Little Manila Recreated (Created by the 2017 Digital Deltas Summer Fellowship Team at the University of the Pacific)
This PC "game" reconstructs a once thriving Filipino/a neighborhood in Stockton and explores the dynamic history of its residents.
Little Manila Recreated VR (Created by the 2018 Digital Deltas Summer Fellowship Team at the University of the Pacific)
This is a virtual Reality museum exhibit that expands on the original Little Manila Recreated project to offer an immersive experience. It is currently on display at the Filipino-American National Historical Society Museum (FANHS) in downtown Stockton.(FANHS).
La Casa Blanca: Vecindad Life in Mid-Twentieth Century Mexico (2016)
This digital humanities experience is a historical reconstruction (build for PC) that introduces audiences to La Casa Blanca, the tenement that housed the family that anthropologist Oscar Lewis studied for his controversial book, The Children of Sanchez. This experience explores the ways some working-class residents of Mexico City used vecindad space to navigate life in a quickly modernizing city in the mid-twentieth century.