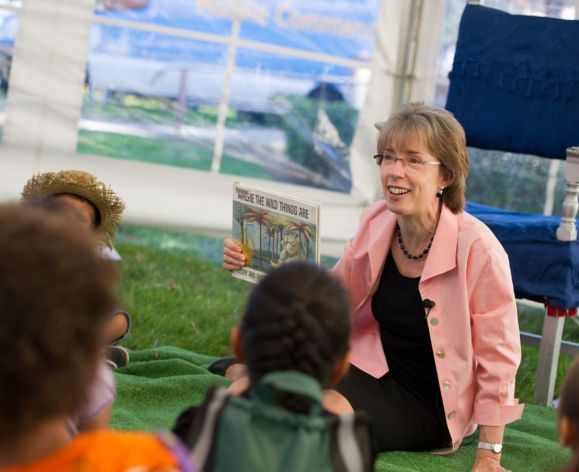 10 Years Beyond Our Gates
University of the Pacific's Beyond Our Gates initiative, a community outreach effort focused on improving education and quality of life in Stockton and San Joaquin County, reached its 10th anniversary in early November.
In 2016, after five years of collective impact work by the Beyond Our Gates program, University of the Pacific commissioned national education expert Dr. Susan Neuman to assess the efficacy of the program's impact on educational, civic and economic work within San Joaquin County. Dr. Neuman earned her doctorate at Pacific.
Through the Beyond Our Gates initiative, University of the Pacific is working collaboratively to improve the social and economic health of our region.
While we believe that the efforts of individual organizations have an important role in improving our community, it is clear that the deep-rooted challenges confronting the Central Valley require a new and collaborative approach.
When Beyond Our Gates was launched, the University and our community partners asked, "Where should we focus our efforts to have the most significant impact on lives in San Joaquin County and beyond?"
We recognized quickly that the answer lies in education - helping children learn today so they can be successful and engaged citizens tomorrow. 
Now, embracing the Collective Impact model, the University is working alongside local individuals and organizations to prepare more of our young people for a successful future:
Reading by Third: Research shows that the ability to read proficiently by the end of third grade is a powerful predictor of future academic success. But it's a benchmark too many local children fail to reach. Learn more about how the University and our partners in the Beyond Our Gates initiative are working to improve early literacy.
The Tomorrow Project: To lift college-attendance rates in the Valley, we have joined a number of community partners to offer specialized academies that deliver the skills, resources and sustained support elementary and high school students need to prepare for higher education. Read more about the Tomorrow Project.
The Beyond Our Gates Community Council: To help guide Pacific's ongoing community-engagement priorities, President Eibeck convened the Beyond Our Gates Community Council, an advisory body made up of local leaders from fields spanning business, education, nonprofit, media, government and faith. Discover how the Community Council is focusing the power of partnership on the region's most urgent needs.
We to seek the community's support, feedback and ideas as we move forward in building new and meaningful partnerships. To contribute your thoughts, contact Community Relations Director Mike Klocke at 209.946.3134 or mklocke@pacific.edu.