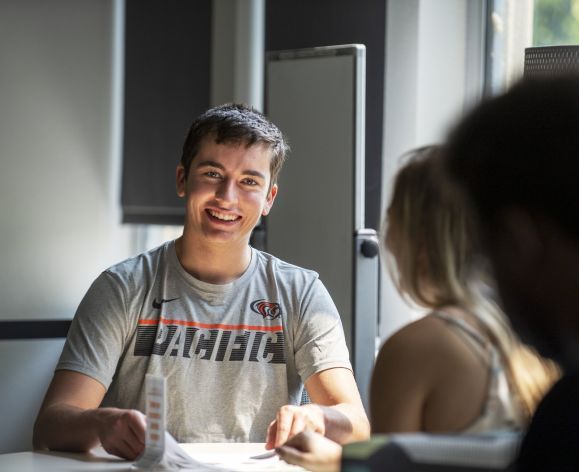 Financial Literacy
Webinars for Every Stage of Your Journey
We know how important understanding financial aid is to your overall Pacific experience, and we'll explain some important concepts, talk about next steps and answer any questions you have about how financial aid at Pacific works. Check this space for more webinars coming soon, or watch recordings of past webinars.
Fall 2022
Webinar Series
If you are brand new to the financial aid process or ever found yourself flustered by the thought of completing the FAFSA (Free Application for Federal Student Aid), our Fall FAFSA Webinar Series is for you! Join us over the next five weeks to fully prepare to file the 2023-24 FAFSA available beginning October 1st. Learn more about how your answers to the questions determine your aid eligibility, what the EFC is and what it means for you, what happens when the details you are required to submit do not match up with your family's current income circumstances, and a step-by-step review of the FAFSA to prepare you to successfully submit yours.
Sept. 29, 2022: FAFSA Myths and Misconceptions
Are you a first time FAFSA filer? Feeling bit hesitant about applying or do you want to learn more about this key application to receive financial aid for college?
Join Assistant Director of Financial Aid Kaitlyn Goslinga as she presents a quick-take, 30-minute session to bust the top 5 FAFSA myths.
Oct. 6, 2022: 100 Questions - Really?
Ever wondered why there are so many questions on the FAFSA? This session provides you a breakdown of the questions, discusses how less-obvious information is utilized (like your parent's age), and gives you tips and tricks on answering all the questions correctly.
Oct. 13, 2022: 2023-24 FAFSA Demo
You have learned all about the questions on the FAFSA, and now you are ready to file! Assistant Director of Financial Aid Kaitlyn Goslinga will present a live step-by-step demo of the FAFSA so you will be fully prepared to complete it for the next school year.
Oct. 20, 2022: The EFC and Me
After you complete the FAFSA you are provided with a number called the EFC (Expected Family Contribution). After looking at that number, if you have ever asked any of these questions, then this session is for you!
Is the EFC what I will have to pay for college?
Why is my EFC so high?
Why wasn't my cost of living or my bills considered? Not fair!
How does my EFC determine what types of aid I am eligible for?
This webinar helps demystify the calculations that determine your EFC and how financial aid administrators use this figure when putting together your aid offer.
Oct. 27, 2022: The FAFSA is a Misfit
What happens when the questions on the FAFSA do not represent what is going on in your family?
Which parent needs to be listed on the FAFSA in cases of divorce, separation, and remarriage? How can you report a change in income or unusual expenses your family has incurred?
Tune in to this webinar to learn more about these situations and the steps you need to take for additional consideration.
May 13, 2022: Parent PLUS Loan Application Demo
Join the Office of Financial Aid for a brief presentation on the federal Parent PLUS Loan as well as a live demonstration of the application and the documents needed to finalize the loan for the upcoming school year.
May 20, 2022: Federal Student Loan Steps
Join the Office of Financial Aid for a brief summary of the federal loans available to undergraduate students as well as a live demonstration of how to accept your loans through insidePacific and the documents needed to finalize the loan process for the upcoming school year.
May 27, 2022: Federal Income Verification Walk-through
If you filed a FAFSA, you might have been selected for a process called federal income verification. This session will help you identify if you have been selected, and if so, the documents and steps needed to finalize your aid eligibility.
June 3, 2022: Keeping Your Financial Aid
You have taken all of the steps to receive your financial aid, now tune in for what you need to do to keep it each year! This webinar will review the academic and other renewal requirements needed to receive your financial aid from year to year.
June 17: Reading and Understanding Your Bill
This session will cover everything you need to know about understanding your bill and the steps to move forward with making payment arrangements. Presented by our Student Accounts team.
June 24: Federal Work Study and Handshake Tutorial
Thinking about looking for a part-time job on campus this upcoming year? Have you been offered federal work study as part of your financial aid package and are unsure about what it means or how to access it? Join this session to learn about how federal work study can provide you opportunities for work on campus during the year.
July 1: Banking Basics
The first step in managing your money is having somewhere safe to put it! This session will cover the differences between banks and credit unions, plus the types of accounts they offer. We will also discuss the places available in the Stockton area to open accounts, along with the ATMs available on campus.
July 8: Budgeting and Money-Saving Hacks
After you have your money somewhere safe, you need a plan on how to spend to reach your personal and professional goals! This webinar will discuss what a budget is, why you should have one, and what resources are available to help you make smart spending decisions.
July 22: Dealing with Debt
The idea of taking on debt can certainly be a bit scary – but we promise that debt is not always a bad thing! This session will discuss things like how to keep track of your student loans, figure out who your loan servicer is and some strategies to manage your debt through your college career.
July 29: College and Credit
There are a lot of myths and misconceptions when it comes to understanding credit and credit cards! Join this session to learn more about credit and how beginning to understand and use credit wisely will benefit you now and into your professional career.
Aug. 12: Financial Aid for Grad School
The financial aid process can look quite a bit different as you transition from your undergraduate studies to graduate or professional school! Join this session to learn more about what to expect at the time you make this transition from what changes you will see when filing the FAFSA to what aid resources are available.