Mission
The Muir Experience introduces the archives of John Muir that are preserved and made available for research at the University of the Pacific. The materials are presented to inspire visitors to examine his writing and consider the full context of when, where, and why he made his observations.
Who was Muir
John Muir (1838-1914) was a naturalist, writer, and activist who was inspired by nature's beauty to preserve and promote natural spaces for all to enjoy. Muir's thoughts on nature and its management challenge established norms. He was the first to understand the glacial origins of Yosemite Valley, he helped to establish Yosemite and other natural spaces as national parks and monuments, and was first president of the Sierra Club, His rare ethnocentric views toward non-white people can be found in brief, though derogatory passages in his works. We learn from Muir's observations, and more importantly we can learn to recognize our own cultural biases and minimize judgement in our observations.
The Program
In the Spring of 2021, the University of the Pacific assembled a group of scholars to determine how best to, in the words of president Callahan, "examine Muir's life in full." Head of special collections Mike Wurtz led students and scholars from across the university as well as storyteller, author and cultural geographer Dr. Carolyn Finney; distinguished professor of history and Rupert Costo Chair in American Indian Affairs Dr. Clifford Trafzer; and Pacific authors and professors of history Dr. William Swagerty, and Dr. Jennifer Helgren, and Dr. Edie Sparks, in creating the Muir Experience.
What you'll see
The Muir Experience is design to follow Muir's ideas from germination to sharing them with the world. The front room represents where he got his inspiration including his personal 1000-volume library in his original bookcases, two paintings from his friend and artist William Keith, and walls adorned in photographs of Yosemite Valley. The room also includes one of his writing desks where he recorded his ideas. The back room has exhibits including the manifestation of his ideas through his journals, letters, and manuscripts.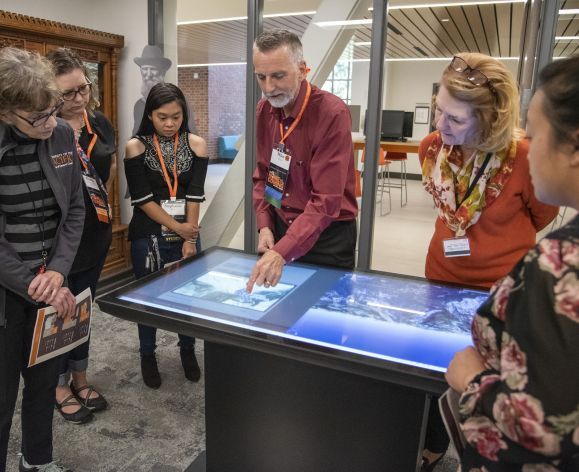 Visit us
The Muir Experience is located in the lobby of the William Knox Holt Library and Learning Center on the University of the Pacific campus in Stockton, California — along California's Muir archipelago: Muir Woods National Monument, John Muir National Historic Site, Muir collections at Pacific, and Yosemite National Park. If you would like to visit, contact the staff of the Holt-Atherton Special Collections and Archives.