Military and Veteran Student Center
Pacific's Military and Veterans Student Center is dedicated to providing programs and services in support of the academic and personal success of our active duty, reserve, military-affiliated, and veteran students. 

As a supportive and inclusive community, we are committed to increasing student veteran access to and awareness of campus resources and enrichment opportunities. The center also serves as a safe space to connect while promoting campus and community engagement and personal development that enrich and support students' academic and professional goals. 

The Military and Veteran Student Center carries out the University commitment to access and equity and plays a key role in campus outreach and recruitment of student veterans.
For more information contact Stan Rapada, Director of the Military & Veterans Student Center, at 209.932.3237.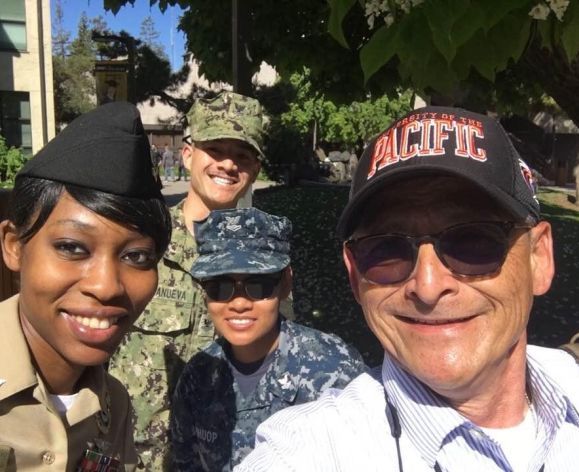 Veteran Outreach Programs
IAVA
IAVA is the leading post-9/11 veteran empowerment organization (VEO) with the most diverse and rapidly growing membership in America.
Ride to Recovery
Ride to Recovery is a groundbreaking program started in 2008. This unique organization saves lives by restoring hope and purpose by providing disabled veterans with week-long bicycle trips in various part of the U.S and abroad. Learn more at the We Are Project Hero website.
Wounded Warrior Project
Wounded Warrior Project serves veterans and service members who incurred a physical or mental injury, illness, or wound, co-incident to their military service on or after Sept. 11, 2001 and their families.
Veteran Tickets Foundation
Veteran Tickets Foundation provides lasting memories and reintegration opportunities to veterans by providing free tickets to sporting events, concerts, and family activities.
Outward Bound for Veterans
Outward Bound for Veterans helps thousands of returning service members and recent veterans readjust to life at home through powerful wilderness courses that draw on the healing benefit of teamwork and challenge through use of the natural world.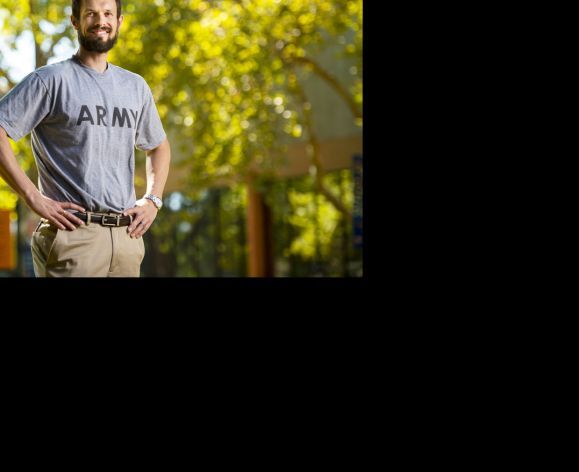 Involvement on Campus
Student Veteran Organization
The Student Veteran Organization (SVO) is here to help make your transition to college life as smooth as possible and your college experience rewarding and productive. We offer support to new and current student veterans and Reserve component personnel as well as family members, active duty members, and our veteran alumni. It is our goal to establish functional and widespread networks of support and friendship for our Pacific veterans as they navigate college and move out to the workforce. If the SVO can help, don't hesitate to contact us or come join us at one of our meetings for food and good company. 
VA Health Care
The Department of Veterans Affairs (VA)
 The VA provides five years of free health care for veterans with service-related conditions who served in a theater of combat for Afghanistan or Iraq (OEF/OIF) since November 11, 1998.
VA Palo Alto Healthcare System
VA Palo Alto provides comprehensive health care at the medical center in Palo Alto and clinics in French Camp, Sonora, and Modesto.
VA Northern CA Healthcare System
VA Northern CA provides comprehensive health care at the medical center in Sacramento and clinics in Fairfield and Yuba City.
VA Transition Team
The VA Transition Team provides screening for all OEF/OIF veterans for post traumatic stress disorder (PTSD), traumatic brain injury, military sexual trauma, depression and suicide risk. The team also assists with counseling and transition services.To enroll for VA healthcare, please call the VA Enrollment & Eligibility Office at 800-455-0057 
Pacific Health Services 
Pacific Health Services provides primary care services for the treatment of minor illnesses and injuries, routine physicals, immunizations, referrals, medication management and women's care.
How do I get certified i.e., have my enrollment reported to the Veteran's Administration (VA)?
After confirming enrollment through the Office of Admissions, new students should contact the School Certifying Official (SCO) by emailing the Registrar's Office according to the campus where they will be physically attending class.
When do I contact the School Certifying Official (SCO)?
After you have confirmed your enrollment with the Office of Admission, you should then contact the SCO. This is based on the Campus where you physically attend.
Do continuing students need to complete any paperwork after their first semester or year of attendance to continue receiving VA benefits?
Continuing students should keep a copy of their COE or 1905 (as applies) for their records so they are aware of the details of their benefits i.e Expiration date. The SCO also keeps a copy of this document on file, so if this information is needed the SCO can be contacted to assist. Generally, as long as this information is current, covering the semester at hand, no additional documentation is needed. If this is expired, the beneficiary will need to contact the VA for assistance, as your units will NOT be certified by the SCO unless an updated form is received. It is the student's responsibility to ensure they know their eligibility status prior to each semester. Students will be certified each semester they are enrolled; unless they contact the SCO prior to the particular semester they would NOT like to be certified. Notification to the SCO must be sent via Pacific email.
How do I get my Basic Allowance for Housing (BAH)?
The BAH is prompted when the SCO (School Certifying Official) certifies your units to the VA. This process is completed prior to the beginning of the semester. Please contact the VA if you have questions regarding this or visit the Basic Allowance for Housing Rates page. If any changes are made to your registration after the last day to add/drop during any given semester, the SCO must be notified IMMEDIATELY via your Pacific email. Changes to registration could affect your BAH and may result in repayment to the VA for any overage in payment.
What if I would NOT like to be certified for a given semester?
Please contact your campus SCO via Pacific email and notify them right away.
What should I do if I reduce the number of units for which I am enrolled or have course changes during the semester?
Students must notify the SCO immediately of any changes to enrollment status. Please refer to the current Academic Calendar for important dates.
Students must also contact Student Accounts regarding any possible changes in their student account balance.
What should I do if I withdraw from the university?
Students must immediately notify their SCO of any changes to enrollment status during any given semester. Students must also contact Student Accounts regarding any possible changes in their student account balance.
What documentation is required in order to have my units certified (enrollment reported) to the VA?
Chapter 31 students need form 1905.
All other chapters need a Certificate of Eligibility (COE) provided by the VA after benefits are applied for or transferred. Please note that COE must be addressed to the person receiving benefits to be accepted. Since this process can take time, a 'Statement of Benefits' can also be accepted temporarily until COE is received by the SCO. This Statement of Benefits can be found at va.gov on the Post-9/11 GI Bill Statement of Benefits page.
When should I apply for the Yellow Ribbon Program?
Students should apply for the Yellow Ribbon program as soon as you confirm your attendance at Pacific. This opportunity is on a first-come, first-served basis and has limited space.
Will I be notified of my acceptance status for receiving the Yellow Ribbon benefit from Pacific?
Yes, the SCO on the campus which you attend will notify you within 10 business days.
How much does Pacific match for the Yellow Ribbon Program?
After the yearly stipend by the VA is exhausted, Pacific matches 50/50 with the VA to cover the remainder of tuition and fees in regular term. The Yellow Ribbon program is not offered in summer. Please refer to the VA benefits site for yearly payment rates.
Once I have completed my paperwork, are there any other steps I need to complete to ensure my financial obligations have been met for the semester?
Always check with the Student Accounts and Financial Aid offices to ensure your requirements have been completed and your account is current prior to the beginning of each semester.
If I want to enroll in the summer session, what should I do?
Summer is open enrollment so you may register. The Yellow Ribbon program is not offered in the summer. However, if you have any front end benefits remaining from the Yearly Stipend allotted to you by the VA, you may have some coverage. Please note this is not guaranteed. Please contact the VA to determine the current balance on your benefit.
As a Chapter 31 student, what charges are paid by the VA?
The VA will pay for tuition, required fees and supplies, books, and parking. The student is responsible for on-campus room and board that is charged to the student account. Please refer to your form 1905 for approved costs.
Do I need to pay my semester charges by the payment deadline if I am receiving benefits that cover the cost of my enrollment?
If you are receiving benefits that cover the total cost of enrollment (tuition & required fees only) but the University will not receive the funds prior to the semester payment deadline, you will not be required to borrow money to cover costs while waiting for your benefits or be charged a late fee or penalty. If you are receiving financial aid that covers the total charges on your student account, then you have met your financial requirements for the semester. If you are not receiving enough aid to cover total charges once your benefit amount is received, then you must pay the remaining balance in full.
Do I need to complete a FAFSA to obtain Financial Aid?
Yes, in order to receive Federal student loans, you must complete a FAFSA. Please file the FAFSA beginning in October of the current year to ensure you receive your award package prior to the fall invoice which is sent the following July.
Lead Certifying Official for University of the Pacific
David Xiong
University VA Certifying Official/Evaluator

Office of the University Registrar
University of the Pacific
3601 Pacific Ave.
Stockton, CA 95211
Phone: 209.946.3903
dxiong1@pacific.edu