October 05, 2022 07:30 pm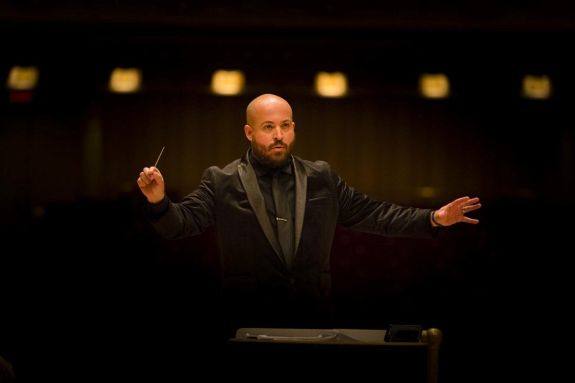 Join the Pacific Bands in an evening of music that will feature the world premiere of Chávez, 1927 by composer-in-residence Giovanni Santos. The work honors the life of labor leader and civil rights activist César Chávez. Poetry by Professor Martin Camps, Director of Latin American Studies, will also be featured. 

Vu Nguyen, conductor
Urban Light (2021)    
James David (b. 1978)
Lamento Cubano from
"Three Latin American Dances" (2019)  
Giovanni Santos (b. 1980)
Second Suite in F, (1911)
Gustav Holst (1874-1934)
A Movement for Rosa (1992)  
Mark Camphouse (b. 1954)
Chávez, 1927 (2022) – world premiere    
Giovanni Santos (b. 1980)
Program coming soon.
Cost:
Free for students with a valid ID;$5 for seniors;$10 for all other guests
Add to Calendar
2022-10-05 19:30:00
2022-09-28 11:40:58
Symphonic Wind Ensemble and University Concert Band
Join the Pacific Bands in an evening of music that will feature the world premiere of Chávez, 1927 by composer-in-residence Giovanni Santos. The work honors the life of labor leader and civil rights activist César Chávez. Poetry by Professor Martin Camps, Director of Latin American Studies, will also be featured. Vu Nguyen, conductor Urban Light (2021)     James David (b. 1978) Lamento Cubano from "Three Latin American Dances" (2019)   Giovanni Santos (b. 1980) Second Suite in F, (1911) Gustav Holst (1874-1934) A Movement for Rosa (1992)   Mark Camphouse (b. 1954) Chávez, 1927 (2022) – world premiere     Giovanni Santos (b. 1980) Program coming soon.
3601 Pacific Ave, Stockton, CA 95211, USA
Conservatory of Music
Conservatory of Music
America/Los_Angeles
public
3601 Pacific Ave, Stockton, CA 95211, USA
Faye Spanos Concert Hall