The University of the Pacific's dining mission is straightforward. In cooperation with our food service provider, Bon Appetit, we strive to use fresh and authentic ingredients by utilizing food in its simplest and most natural form. Utilizing locally purchased and season products, our chefs work hard to make our food full of flavor and nutritious. Menus are created by the Executive Chef with an emphasis on meeting the tastes of our students, faculty, and staff.
For the 2021 spring semester
Dining Services
Only the Marketplace and Calaveras Coffee located in the DeRosa University Center (DUC) will be open and available for the spring 2021 semester. All food options will be grab and go as there will be no in-house seating. Groceries may also be purchased to be used in apartment kitchens. 
Items from the Grove such as toiletries, over the counter medicines, snacks, ice cream, and grocery items have also been moved to the Marketplace for the convenience of our residents. 
All residents who are approved to live on campus will be assigned to our apartment communities so that they may have kitchens available to meet their needs. 
Monday - Friday, 10:00 a.m. to 6:00 p.m.
Closed on the weekends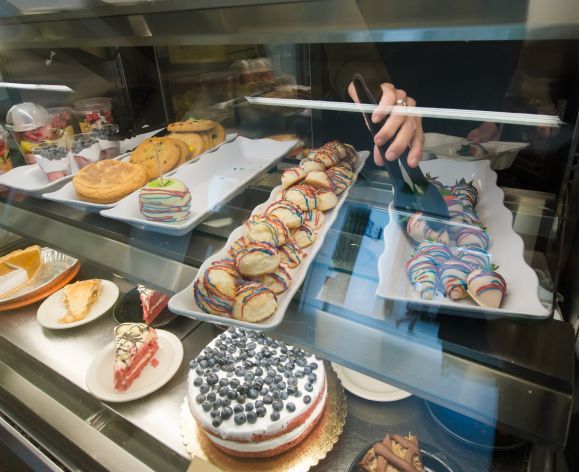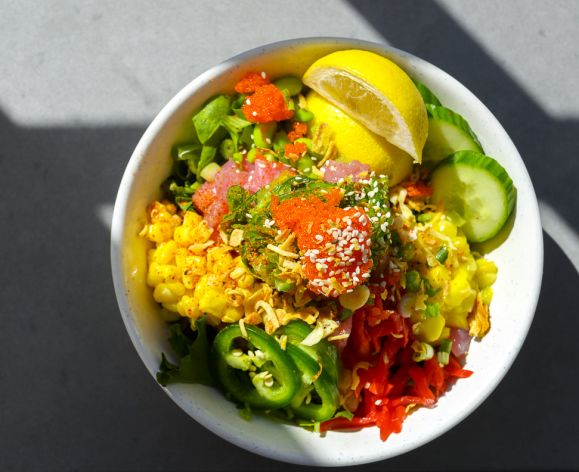 The Marketplace
The Marketplace offers a wide variety of food and beverages and can accommodate special dietary requirements. From a customizable salad bar, made-to-order sushi, and sliced country ham with homemade mashed potatoes, The Marketplace is the central dining venue at Pacific.
Monday to Friday, 7:00 a.m. to 9:00 p.m.
Saturday to Sunday, 8:30 a.m. to 9:00 p.m
The Lair
If you're looking for no-frills, delicious pub-fare, grab your friends and head over to The Lair. Located on the second floor of the DeRosa University Center, The Lair is one of the most popular hangout spots on campus. Like any late-night establishment, The Lair offers plenty of good entertainment, from musical performances to stand-up comedy and karaoke.
Sunday to Thursday, 7:30 a.m. to 12:00 a.m.
Friday - Saturday, 7:30 a.m. to 1:00a.m.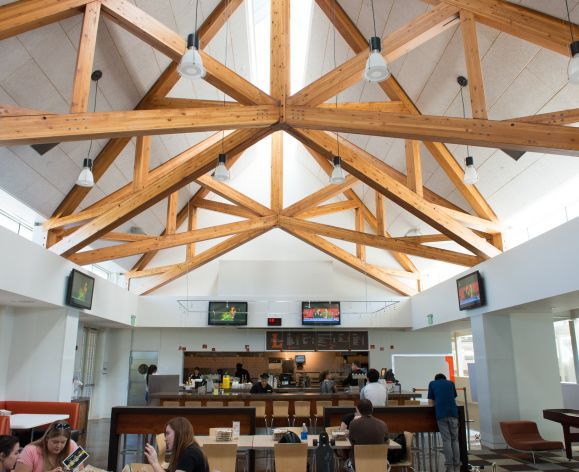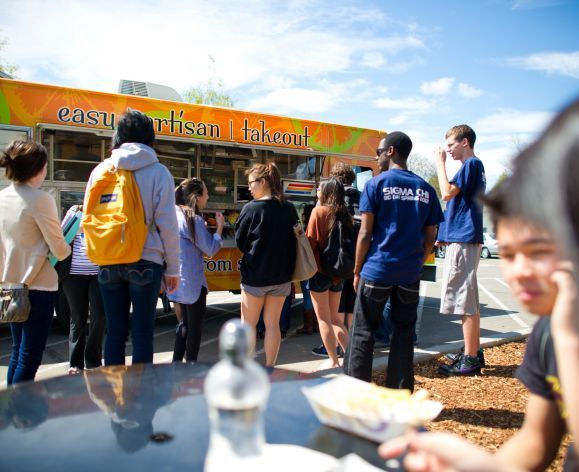 E.A.T. Truck
Following in the footsteps of the gourmet food truck revolution, the E.A.T. Truck offers fresh, convenient, artisan meals on the go—no utensils required.  The Truck offers a seasonal everyday menu as well as specials created daily by the Executive Chef.
Monday – Friday, 8:00AM - 3:00PM
River Room
Located on the second floor of the DeRosa University Center, the River Room is a high-end, buffet-style restaurant overlooking the Calaveras River.
Open for lunch Monday – Friday, 11:00AM - 1:30PM.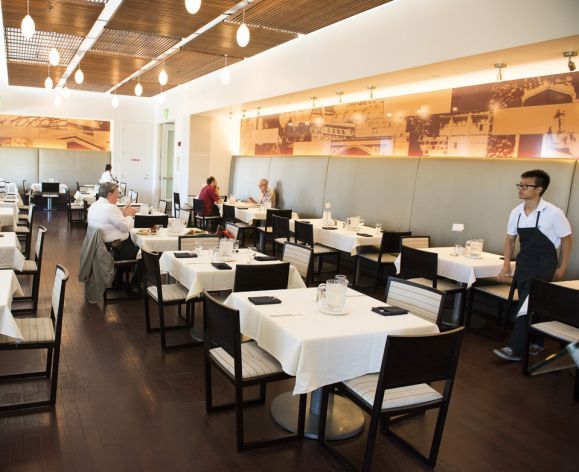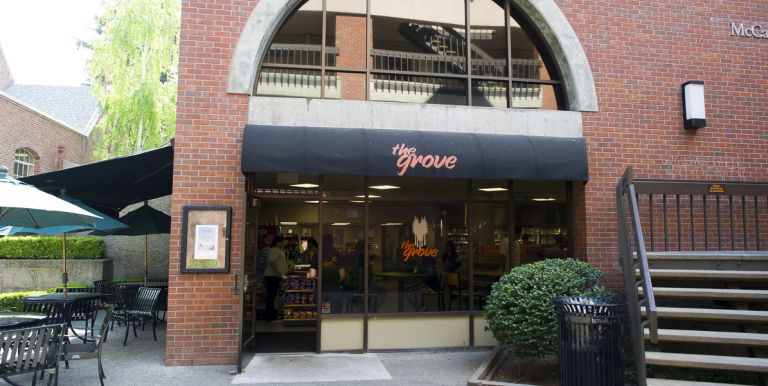 Grab-n-Go Options
The Grove
The Grove grocery store is conveniently located in the McCaffrey Center. It provides such options as grab-and-go lunch and dinner selections, snacks, beverages, and various grocery necessities. Also, here you may find many apartment essentials such as toiletries, laundry detergent, cleaning supplies and more.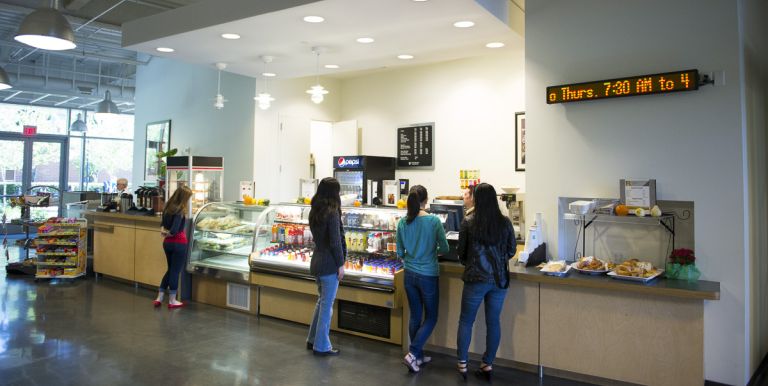 Grab-n-Go Options
Health Sciences Cafe
The Kiosk at the Health Science building offers a variety of fresh breakfast pastries, grab and go sandwiches and salads, and espresso beverages.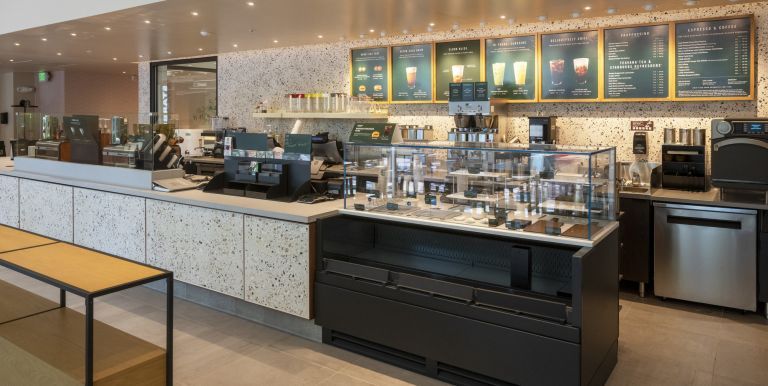 Grab-n-Go Options
Starbucks
The Starbucks located in the William Knox Holt Memorial Library is full service, so you can get your favorite Starbucks beverage and snack on campus.