Inspire Your Making
Connect. Collaborate. Create.
We invite you to explore the Cube, our technology-rich collaborative space. The University of the Pacific libraries work with faculty, students, and staff across the university to incorporate digital tools into research, teaching, and learning.
Design Your Next Project
Explore opportunities for academic projects, experiential learning and interdisciplinary collaboration. Request services and/or project collaboration.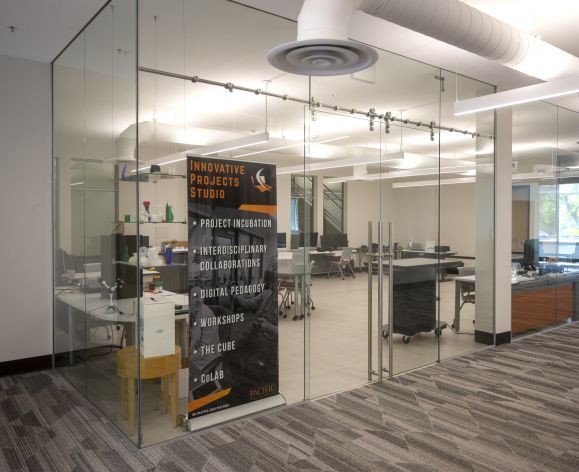 Here at the Cube we have equipment for both virtual reality (VR) and augmented reality (AR) projects. Students can come in and start developing their own AR or VR application today!
What is Virtual Reality?
Virtual Reality (VR) is an immersive first person experience that allows a person to interact with a computer generated 3D space.
Which VR system is available?
The Cube offers 3 Virtual Reality workstations using Oculus Rift VR headsets with touch controllers powered by Asus ROG performance desktop computers.
What types of files are available for VR viewing?
The Cube is currently offering a selection of educational and entertainment applications through the Oculus VR library. In addition, the Cube is working with students and faculty to generate original content through gaming engines and architectural design software.
VR in the classroom
Here at Pacific, VR is being integrated into the classroom [Click here to see a list of Pacific classes using VR!]
Cube VR Projects
The Cube has been used to create multiple unique VR experiences! Cllick here to view the VR projects.
Can I bring my friends and have a LAN gaming party?
The Cube is not offering this ability and is intended to introduce students to the power and possibility of this exciting new media for pursuing creative and educational endeavors.
How long can I spend in VR?
Virtual Reality sessions are limited to 50 minutes and can be booked ahead of time by emailing cube@pacific.edu.
Can I request a specific application?
Submit requests directly to Cube staff and we will review applicability.
How much does it cost to use the VR systems?
The Cube is offering the use of Virtual Reality workstations free of charge for students, faculty, and staff.
How do you keep the headsets sanitized?
The headsets are wiped down with sanitizing wipes.
Augmented Reality (AR) is an immersive environment in which computer-generated visual content enhances the real-world objects.
What is the difference between AR and VR?
AR is an immersive environment in which visual content generated by a computer enhances the objects in the real world. AR is typically viewed through a smartphone or tablet screen. VR is a computer-generated environment where users enter the digital environment by putting on a a head-mounted display (HMD).
Cube AR Projects
The Cube has been used to create multiple unique AR experiences! Click here to view an AR project.
What is 3D printing?
3D printing is a form of additive manufacturing, where a model file is "sliced" into thin layers and printed in (plastic) one layer at a time.
What 3D printers does the Cube have?
The cube has the Lulzbot TAZ-6 Fused Deposition Modeling (FDM) and Peopoly Moai SLA printers.
How large can I print?
The TAZ-6 has a maximum build volume of 298 X 275 X 250mm (LWH).
What types of filament are available?
The TAZ-6 is capable of printing almost any thermoplastic filament up to 300C. Typically we print in PETG, ABS, PLA, and HIPS.
What types of file format is supported by the 3D printer?
Please prepare your file in either .STL or .OBJ format. Other formats will require conversion to .STL or .OBJ and software for converting may or may not be available in the Cube.
How much does it cost to print?
FDM prints are charged as the combination of print time and material used at a rate of $1.00/hr and $0.10/g (ie. a 6hr print that uses 150g of filament would be charged $21.00).
How can I pay for printing?
The cube accept payments in cash or debit/credit cards. Cheques are not accepted.
Who can 3D print?
3D printing at the Cube is available to the public during the Cube's regular operating hours.
Can 3D printing be used in the classroom?
Pacific faculty have integrated 3D printing into their classrooms. Click here to see a list of classes that have leveraged 3D printing.
What am I allowed to 3D print?
Please review the Policy page for the Cube.
The University Libraries is now offering drone check-out to qualified groups or individuals for academic pursuits.
Can any student, faculty or staff check-out the drone?
Yes, but they must have an FAA's Unmanned Aircraft System (UAS) certification and demonstrate past flying experience.
Can the drone be used for personal projects?
No, the drone is intended for academic related activities such as research or class project.
I have my own drone, can I just use my own and fly on campus?
Please contact University of the Pacific Risk Management office prior to flying.
Does the library have licensed drone pilots?
Yes, there are library staff who hold FAA licenses and can assist in coordinating safe and legal flights on campus.
What kind of academic projects use the drone?
At Pacific, the drone has been used to support projects involving cinematography, photography, measurement of landscape, and topological reconstruction from surface photography.
What is 3D Scanning?
3D scanning is a method by which a physical object is captured as a cloud of spatially defined points, which can be interpreted as a triangulated surface mesh for digital modeling and manipulation.
How big can a 3D scan be?
3D models of large-scale objects can be created via photogrammetry if photos can be taken from multiple angles. Precision and detail of the 3D scan might suffer with this method.
The Ciclop scanner can achieve millimeter accuracy, but object size is limited to 5 cubic inches.
Which 3D scanners does the Cube offer?
The Cube offers 2 different techniques for creating 3D scans including a small format Ciclop laser scanner and photogrammetry with Autodesk Remake.
What kind of objects can be scanned?
Objects which have internal volumes or areas obscured from view will not have those aspects captured. Also, objects that are highly reflective or transparent don't scan well.
What types of files are created from 3D scanning?
Depending on which 3D scanning method you start with, you will either generate a pointcloud or mesh fil, either of which can be manipulated and converted for editing in software available in the Cube.
How much does it cost to make a 3D scan?
The Cube is offering the use of 3D scanners, software and our expertise free to students, faculty, and staff.
What can I do with a 3D scan?
Most people use 3D scans either to make a direct copy of an existing object (3D print) or to use as a model in the creation of an object intended to work with it.
What kind of projects at Pacific use the 3D scanner?
The scanner has been used to scan photogrammetry of buildings using a Drone. Historical artifacts have been scanned.
Is the scanner available to the public?
Yes.
What am I allowed to scan?
Please review the Policy page for the Cube.
What is CAD?
Computer Aided Design, the first step in creating digital content for fabrication or Virtual Reality.
How long can I spend using CAD?
The cube is open Mondays through Fridays, from 9AM to 8PM.
Which CAD software is available?
The cube has CAD packages that range from simple to industry-standard such as TinkerCAD, Autodesk Revit, Autodesk Fusion360, and Autodesk Inventor.
Can I request a specific CAD application?
Discuss specific needs with a staff member in person or at cube@pacific.edu.
What types of files are created?
CAD software can create various types of files that allow designs to be taken to digital fabrication through additive manufacture (3Dprinting), Computer Controlled (CNC) machining, or into Virtual Reality environments.
How much does it cost to use the CAD systems?
The Cube is offering the use of CAD workstations free of charge for everyone.
Is the CAD in the Cube open to the public?
Yes.
What am I allowed to design in the Cube using CAD?
Please review the Policy page for the Cube.
What are some class examples of using CAD?
Here at Pacific, CAD has been used to design historical buildings, historical artifacts, and engineering parts for projects.
The cube has recently acquired the 44-inch Canon imagePROGRAF professional printer that can print high quality photos or posters.
How much does it cost to print at the cube?
On a universal bond paper, a black-white print will cost $1/foot2 while a colored print will cost $2/foot2. This means a typical scientific poster would cost $12 or $24 for a black-white or colored print respectively.
What is the largest paper size I can print on?
The largest prints are constrained by the printer's 44-inch width. The length of the print can be varied to meet your needs.
What file format do you accept?
We highly recommend a PDF file or any lossless image formats.
Does the cube print plastic banners?
Not at the moment, but we are constantly pushing to include more services. Discuss specific needs with a staff member.
Is the large format printing open to the public?
Yes.
Is there a limit on how many posters I can print at a time?
No.
What am I allowed to print?
Please review the Policy page for the Cube.
The Cube also offers professional recording equipment that can be utilized to create high-quality digital media content. We have equipment that can record in traditional 2D or 360 degrees ambisonics.
Does the Cube have a green screen?
Yes! We have a 360 Studio with a green screen for chroma key compositing.
Does the Cube loan out equipment for media production?
No. All Cube equipment must be operated by a Cube staff member. Arrange recording sessions by emailing cube@pacific.edu.
What media production software is available?
The Cube has the complete Adobe Suite which includes Photoshop, Illustrator, Premiere Pro, Audition.
What equipment does the Cube have?
Please see our equipment list.
Am I responsible for storage of my media content?
Yes, you are responsible for storage of your media content. Once you are finished filming, please make sure you have a copy of the content on your own personal storage device e.g. a USB flash drive.
I would like a project/event filmed, what do I need to do?
Please contact cube@pacific.edu with your request.
Can my students use the filming equipment for their class project?
Please contact cube@pacific.edu for more information.
I don't know how to file or edit videos, can you help me?
Yes, we can help you! Please contact the Cube at cube@pacific.edu with any questions or make an appointment for an in-person workshop.
On the south wall of the Innovation Commons is a high-resolution, digital display system featuring a 100-inch interactive touchscreen monitor. The system includes a podium with audiovisual connections, acoustically treated ceiling and overhead speakers.
"The Digital Wall provides a dynamic, interactive digital display system for students to showcase their projects, faculty to use it as open teaching space and staff to exhibit their creative projects," said Associate University Librarian for Organizational Innovation Niraj Chaudhary. "We hope the Digital Wall will cultivate an environment of discovery, collaboration and exploration in teaching and learning with technology at Pacific."
Classes and campus groups can reserve the wall for lectures, presentations and events. The Digital Wall will also be used to showcase interactive projects including 360-degree videos and virtual reality experiences.
Please email cube@pacific.edu to reserve the Digital Wall for classroom use.
Want to learn more about our resources and technology?
The Cube
William Knox Holt Memorial Library and Learning Center
3601 Pacific Avenue, Stockton CA 95211
Email: cube@pacific.edu