Service Update
Due to COVID-19, the Interlibrary Loan Services print requests and Link+ service will have longer timelines. Due to member library closures, quarantine times and mailing delays, there may be a 7 to 14 day delay in receiving print material from other Libraries and making them available to the requestor. Electronic articles requests might have an additional 3-5 day delay due to requests being filled from member libraries with reduced staff in their buildings. Pacific Library staff will notify you when your items have arrived and are available for pick up. ILL and Link+ items cannot be mailed at this time. Thank you for your patience. For questions, contact Monica Schutzman at mschutzman@pacific.edu or ill@pacific.edu.
1. While searching our online catalog, when you find a book the University Library does not own, click on the Link+ button
2. Your search will carry over into the Link+ catalog. Select book desired, click on Request it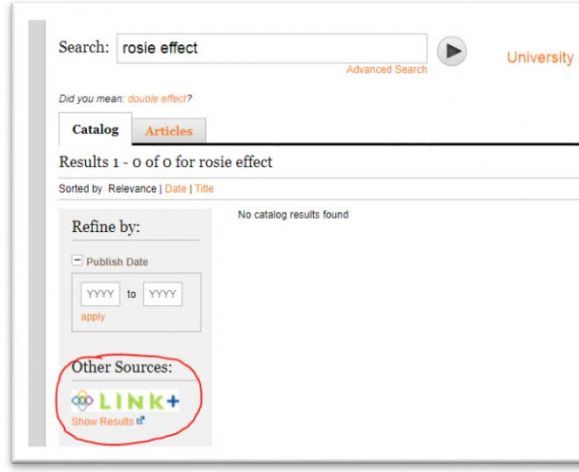 3. Choose that you are affiliated with University of the Pacific and click submit.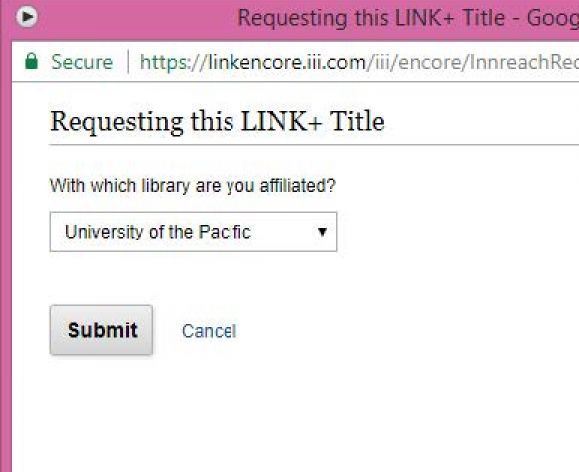 4. Type in your library credentials (name, 988# or 989#) and choose a Pick up location [ie. Stockton CIrc Desk].
5. You may now SUBMIT. Please only SUBMIT if you really want the book.
6. Library staff will contact you when the book is ready for pick up.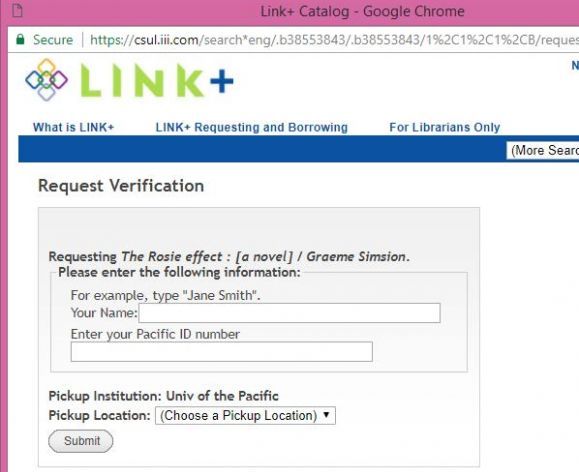 Current University of the Pacific Stockton and Sacramento Campuses students, faculty, and staff.
Most books are delivered to the hold shelf within 3-5 days of date requested.
Turnaround time excludes weekends and holidays.
Items will remain on the hold shelf for 10 days from the day that you receive your hold notice.
Link+ is available for books, CD's, DVD's and other media loanable from other libraries. Journal articles can not be requested through Link+, and will need to be requested through Interlibrary Loan.
The loan period is 21 days with one renewal for an additional 21 days. Late fees will be accrued at $1.00 per day.