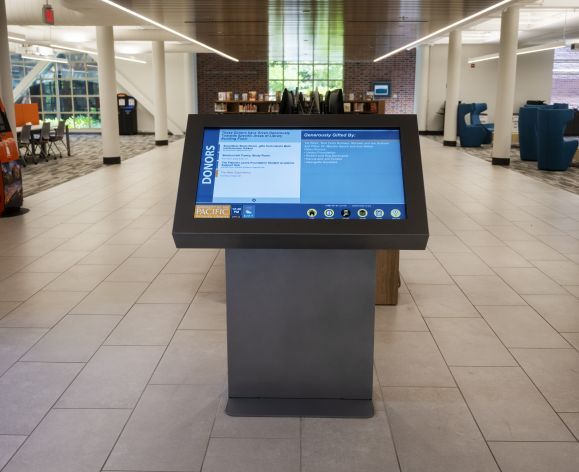 Stockton Campus Library
The Stockton Campus Library delivers services from two facilities on the Stockton Campus.
William Knox Holt Memorial Library and Learning Center
Provides print resources in the humanities, fine arts, social sciences, music, business, education, natural and physical sciences, and engineering
Rite Aid Information Commons
Provides print resources on pharmacy, physical therapy, speech language pathology and dental materials
These facilities offer a variety of study settings, including carrels, large tables, lounge areas, and group study rooms.
Patrons shall behave in an acceptable and lawful manner
Patrons are expected to maintain an acceptable standard of personal hygiene
Children under the age of 12 shall be accompanied by an adult
Patrons shall utilize only external racks for bicycles
Patrons shall respect quiet zones, (cell phone and noise prohibited)
Patrons shall follow reasonable direction of Library Staff
By entering the University Library, you agree to all applicable policies, including conduct and behavior. A more complete list is available upon request.
We reserve the right to have all non-compliant patrons removed from the premises.
Student Positions
To apply for open student library positions, check out Handshake, the University's student hiring portal! For help in navigating Handshake, contact the Career Resource Center at careerservices@pacific.edu | 209.946.2361.
Faculty and Staff Directory
We are committed to supporting you — our students, faculty, and staff — in their teaching and learning.